How to Find and Get in Front of Your Ideal Client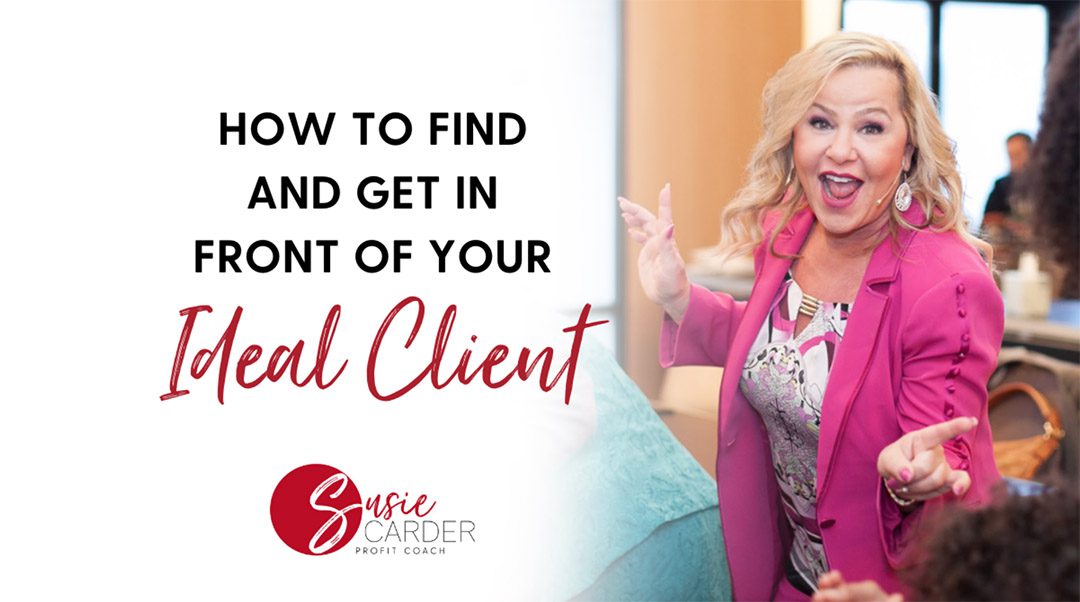 One of the questions that I get asked all the time is "How do I find and get in front of my ideal client?" The one really important thing that you have to realize is that finding the ideal client doesn't have to be hard. It doesn't have to be a struggle or a drama that you have always thought it to be.
I have always said that you need to be seen and be heard to get paid. If you want to find your ideal client, you need to get on stage and go get speaking. The single most effective way to make yourself known is to make yourself a trusted advisor. And when you are a speaker, you immediately get credibility.
Business is A Numbers Game
Forty-eight percent of small business owners fail to achieve their sales quota. Why? Because they're hiding behind their computers and not being visible to their ideal client. You tend to be busy being busy being busy. But are you getting yourself in front of your ideal client?
Fifty-eight percent of people who are serving have no sales structure. They have no salespeople to support them in that process. They are making the process way too hard when all they really need is just a systematic process.
Seventy-nine percent of business owners say that it is absolutely critical to interact with the salesperson and a trusted advisor every day. So, every day, you have to do the highest income-producing activity only you can do. Every day you have to do some form of selling.
10 Things to Do to Find and Get in Front of Your Ideal Client
A lot of us struggle with getting through to the next month, paying bills, and providing everything for our family. Sometimes, we have more months than money. The fundamental point is to close customers faster. This means that you need to make sure that you are in front of the right people at the right time. Are you doing everything to be in front of the right people?
You have to step on stage and get credibility so you can find and get in front of your ideal client. But before you step on stage, you have to be prepared. Here are ten things that you need to do to find and get in front of your ideal client:
1. Identify Your Ideal Client
The first thing that you can do is find out who your ideal client is. You need to really find out who's that person that's going to drop down the money for the value and the services that they want and that you can offer. Who is going to buy your specialty?
2. Prepare Your Speaker Sheet
The next thing you have to prepare are the essentials. Begin with your speaker sheet. Your speaker sheet is your file which summarizes the topics, your social stats, and includes a sexy picture of you.
The chief thing is the number of people you can leverage and influence from the number of people you are in front of. Prepare your speaker sheet to attract these people. Look at what your average ticket is and monetize what you're doing.
3. Create A Speaker Video
You have to have a speaker video so people can see you speaking. Get yourself videotaped speaking to an audience. If you can't get on a stage yet, just get a group of people together and speak but get that on video. And most importantly, get the interaction and the vibe going.
A speaker video is a powerful tool. It may take an hour to get a two-minute clip or it may take two days to get a two-minute clip. Document every single thing that you do on video and you are going to see the growth and development.
4. Create A Hit List Of What Events You Would Speak At
Look inside your community. Look at your dream stages. What dream stages do you want to be on? What do you need to do to uplevel and be on that stage?
Check out events happening in your area or somewhere you want to be on. Identify which of these events you want to be a part of and speak at. Find out if these events have your ideal clients participating and take a background check of what the event is about. Then look into what you can do so you can be on that stage.
5. Create Your Form Letter
You must have a form letter that you can turn into a template and use over and over again. Your form letter should explain who you are, the value that you bring to them, and the value that you can bring to their clients. Make it about them. Because what matters to them is what's in it for them. What's in it for the customer when they hire you? How are you going to serve their community? It can't be about you speaking. It's never about you, it's about what you can do.
Put yourself directly in front of people who fit the description of your ideal clients. You can only do that if you have something valuable to give them.
6. Network With Other Speakers And Influencers
An influencer is somebody that's willing to make a difference and are doing things in the world. You can partner with them or support and leverage them. Network with people and join speakers' clubs or communities.
You can also network by being a podcast guest. Those can be harder to monetize and you are not going to see the instant income from those. But it will get you the exposure so that you can be seen and heard. What's important is you get yourself to places where you can extend your reach.
7. Go To Local Industry Events
Go to local events that have your ideal client. There are a lot of local events that are happening everywhere. Look into joining events not just in person but also online.
When you go to local events, make sure that you are connecting with your ideal clients. Don't go to local events that are a waste of your time. Don't go to little breakfasts with random people just showing up. Go to industry events that not only have your ideal clients but also bring value to you and your business.
8. Look At Where Your Community Hangs Out And Then Go Be A Student
It doesn't always have to be about you being on stage. Participate in events where you can leverage your affiliates and your affiliate marketing. Affiliates are those who will help you market your event or your products. Your affiliates are just as powerful as your customers. Because they are going to be the people that will hold your flag and tell you what a great job you do.
Find those events where all your people are hanging out. It doesn't matter if they are going to be local or international events. Just be there with them or be in front of them.
9. Create A Follow Up Strategy
Follow up is key. Create your follow up strategy as a system, not as a one-off. If you are using an email as a follow-up strategy, make that a system that you can use on all your other clients. It is cost-saving and time-saving.
As a business owner, you are the butcher, the baker, and the candlestick-maker.  That means you have less time to do all the things that you need to do. Leverage time and your expertise by creating a strategy once and use it over and over again. You end up wasting so much time doing duplicate work if you don't. Use your time wisely and spend it doing the highest income-producing activities only you can do.
10. Apply To More Events
For every 10 events that you speak at, you have to apply to 100 events. You can't apply to one event waiting. The best amount that you can do events is 15 to 20 a year. So that you still have time to be home and be with family. But 15 of the right events will give you more results than 100 of the wrong ones.
If you are in front of your ideal clients and you close 25% of the people who are attending, then you are making a million-dollar business.
Running a business can be hard work. But it doesn't have to be a struggle if you know what to do and you play smart. It is all a numbers game. If you know how to find and get in front of your ideal client, all roads lead back to money.
Your Partner in Prosperity,
Follow Susie Carder here:
Facebook: http://bit.ly/SusieCarderFacebook
Twitter: http://bit.ly/SusieCarderTwitter
Instagram: http://bit.ly/SusieCarderInstagram
LinkedIn: http://bit.ly/SusieCarderLinkedIn
Website: http://bit.ly/SusieCarderWebsite
YouTube: http://bit.ly/SusieCarderYouTube
_______________________________________________________________________________________
Do you want to learn the strategies and tools to play big and boost your business up to the next level? Join me on the 5- Day Make It Rain Summit absolutely FREE! Get all the juicy details about making your business recession-proof and raining revenues!