5 Ways to Follow Up with Your Clients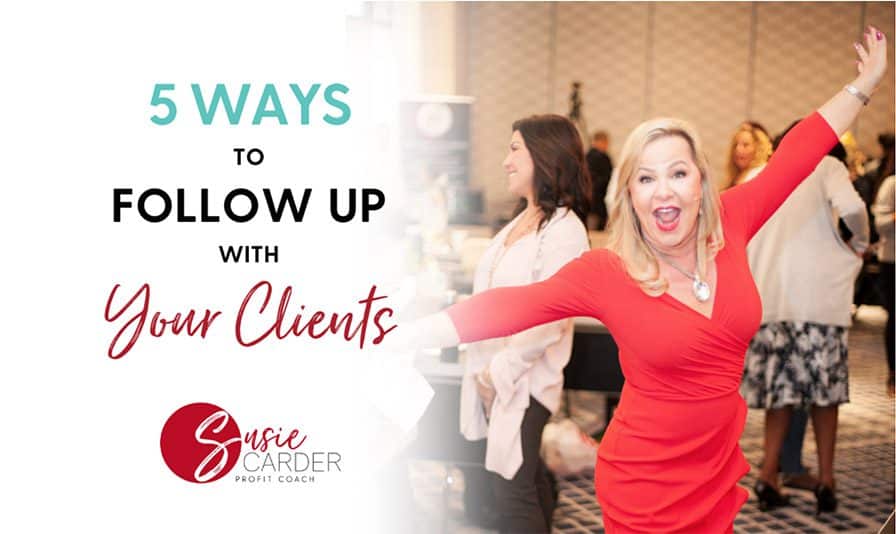 In business, it is important to look at your missed opportunities and what you can do to take care of them. One of these missed opportunities is not following up with your clients and customers. Are you leaving money on the table?
When you don't follow up with your clients, you are leaving money on the table. It is much easier to sell to a client that is already engaged to you than a client that's not. Building relationships is the fastest way to leverage success. So, how do you leverage that and stay in front of your clients?
5 Ways to Leverage Your Relationship and Follow Up with Your Clients
You are in business for yourself, not by yourself. So, you need to create a strategy for building your client relationships. Some can be sequenced and automatic, while some need a little personal touch.
Here are 5 ways to leverage your relationship with your clients and customers:
1. Go above and beyond with little personalized gifts. Do handwritten cards. Give prizes. It is archaic but clients love and adore this little strategy. It makes them feel appreciated. Let your clients know that you are doing business with them from a place of love, authenticity, and contribution. Touch them in a way that they have never been before by other businesses. Make them feel unique and special by doing simple but genuine acts of kindness such as handwritten thank you cards. Each of us likes to feel appreciated. And we stick to businesses that remember us and the business that we give them. How do you make your clients feel special?
2. Go and ask your clients for powerful referrals. Stop hunting for new clients. You want to do business with people that you are already doing business with. They are even probably in the same tribe as you are. Ask your clients for referrals in a way that they can support and celebrate you. A fun way to do it is to do referral contests. It gets your client excited to serve you and serve others. If you don't ask, you will get zero referrals guaranteed. But if you do, you'll get more than you could ever expect.
Need help playing big? Click here to register for the MAKE IT RAIN CHALLENGE!
3. Reward and recognize your referrals. People are motivated by three things: money, prizes, and recognition. You can do verbal recognition or public recognition on one of your events. You can do newsletters and highlights on social media. Create a strategy on how you can create influencers and really celebrate the clients that are playing with you.
4. Send reminder cards and emails to clients. Remind clients that they have been in a relationship with you and so it is time to book a strategy call with you. Send emails to clients you haven't heard from in a long time and have gone MIA (missing in action). Let them know that you are thinking about them and that they are not just a number to you. Truly value every single one of your clients. When clients email you, email them back. They will be amazed at how you touch them and reach out to them.
5. Call or email clients to show up. Nothing is worse than having a strategy call or an appointment call and people don't show up. But sometimes, they don't because they forgot or have been very busy. People appreciate it when you reach out to them and let them know that they are important to you enough that you care if they are there or not.
Create A Strategy for Your Missed Opportunities
Doing all the little extra things inside of your business will make a huge and profound difference in your business. It's not one thing we do but all of the things that we do. Sometimes, it can be a little overwhelming. That's why you have to take bite-sized chunks of things that you need to do.
 The bottom line is, you have to create a strategy and find ways to follow up with your clients so you don't leave money on the table. Take care of your missed opportunities.
Do you want more tips on what other things you can do with missed opportunities? Check out my other blog: 11 Missed Opportunities While Serving Your Clients.
What other opportunities are you missing that you're leaving money on the table? How are you taking care of them? I am here top help you as you go along the way.
Your Partner in Prosperity,
SUSIE CARDER
Follow Susie Carder here:
Facebook: http://bit.ly/SusieCarderFacebook
Twitter: http://bit.ly/SusieCarderTwitter
Instagram: http://bit.ly/SusieCarderInstagram
LinkedIn: http://bit.ly/SusieCarderLinkedIn
Website: http://bit.ly/SusieCarderWebsite
YouTube: http://bit.ly/SusieCarderYouTube
_______________________________________________________________________________________
Do you want to learn the strategies and tools to play big and boost your business up to the next level? Join me on the 5- Day Make It Rain Summit absolutely FREE! Get all the juicy details about making your business recession-proof and raining revenues!